Predicting the Next Global Japanese Brands
Branding agency Interbrand recently published its annual list of Japan's Best Global/Domestic Brands for 2016. What can it tell us about the future of Japanese brands?
Among the usual big-hitters in Interbrand's list – Toyota claims top spot for the eighth year in a row – there are some interesting newcomers from the food, retail and personal care categories. Our trend forecast shows that Japan will rely less on expensive machines and more on small packaged goods for its export growth in future.
Interbrand defines a Global Japanese Brand as one which earned at least 30% of revenue outside Japan in FY2014. Companies are ranked by brand worth based on projections of future earnings and the brand's influence on purchase decisions.
We've broken down the list further into Super, New and Emerging categories and selected a few emblematic brands for each.
---
Super Global Japanese Brands
Manufacturing giants which earned over 70% of revenue outside Japan in FY2014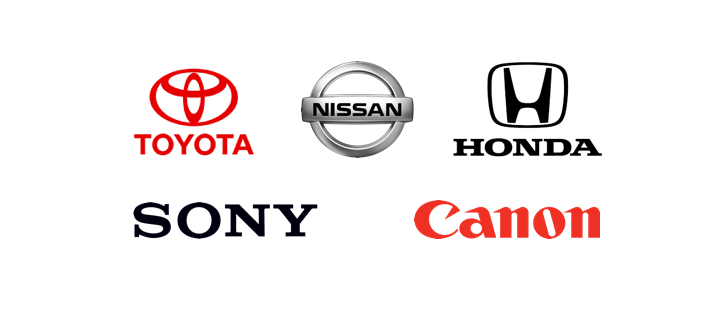 You know these brands because they've been around for decades: Toyota, Nissan, Honda, Sony, Canon, and a few others besides. They make things, basically, and do a very good job of it most of the time. What may surprise is that more than 70% of these brands' revenue is earned outside Japan, which gives them truly global status. And they have no problem appointing non-Japanese to senior positions if that's what it takes to preserve global market share.
---
Newly Global Japanese Brands
Companies which earned over 30% of revenue outside Japan in FY2014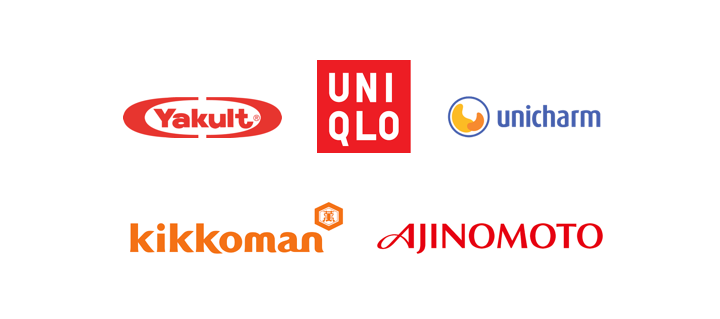 These are some of the companies which recently qualified for Interbrand's list of Japan's Best Global Brands. While the list includes the usual technology firms, a surprising number belong in the FMCG category: Yakult makes health drinks, Uniqlo makes affordable clothing, Unicharm makes diapers and sanitary products, while both Kikkoman and Ajinomoto make food products that appeal to Asian tastes and a growing Western interest in 'healthy' Japanese cuisine. Newly global Japanese brands are an indicator of Japan's strengths in product planning, product packaging, quality control, supply chain and retail design.
---
Emerging Global Japanese Brands
Companies which earned nearly 30% of revenue outside Japan in FY2014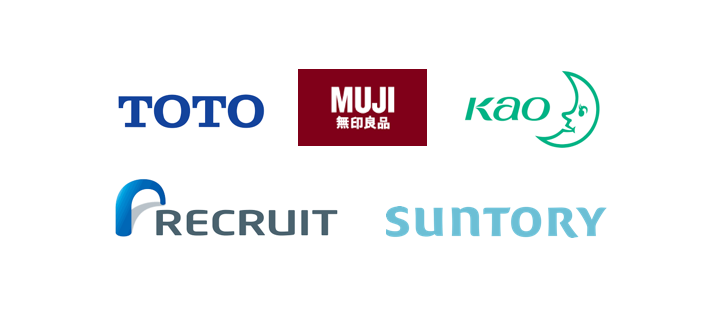 These are the brands which look set to go global in the next few years. In fact, Suntory (beverages) and Kao (hygiene products) already earn more than 30% of revenue overseas, though not under their own brand name. As in the previous category, FMCGs are leading the charge, with a few interesting exceptions. Toto makes undisputably the world's best toilets, while Recruit is expanding its presence in SE Asia as it strives to meet Japan's growing HR needs. What's striking is the absence of internet companies in the next wave of Japanese brands. There's no sign of a Japanese competitor to the Silicon Valley giants. Visit your local branch of Muji or perch on a space-age Toto throne and you start to see why: Japanese brands are successful overseas when they avoid direct competition and focus instead on uniquely Japanese strengths in design, hygiene and wellness.
---
Surprisingly Non-Global Japanese Brands
Companies which earned less than 15% of revenue outside Japan in FY2014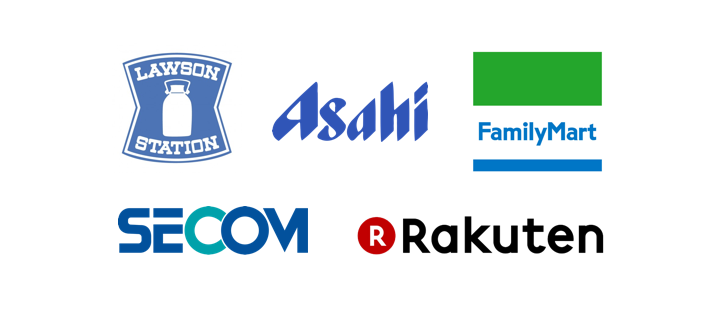 The final category highlights some of Japan's Best Domestic Brands that are far from going global. Convenience store Lawson may be able to trace its origins to a US dairy food chain but has been a mainly Japanese concern since the 1980s, earning just 10% of its revenue overseas. Rival store Family Mart's international presence has suffered due to a forced rebranding of its stores in South Korea. Asahi has been unable to match rivals Suntory and Kirin in developing beverages that appeal to non-Japanese tastes. Secom, despite efforts to convince Japanese customers that the world depends on it for security, earns a tiny share of its revenue outside Japan. Rakuten, despite intense PR activities and a global acquisition spree, earned just 13% of its revenue overseas.
---
Conclusion
While there's clearly no stopping Japan's all-conquering automotive sector, Interbrand's list shows which industries could follow. They probably won't be internet-based: software remains Japan's achilles heel as it struggles with language and UX expectations of foreign users.
There's more global activity in FMCG categories boosted by good design, high safety standards, and a domestic retail culture built on fast-paced, high-volume consumption. As standards of living in the rest of Asia rise to meet those of Japan, everyday Japanese brands are increasingly finding favour with other Asian consumers.
At the same time, explosive growth in foreign tourism to Japan over the last five years has made local brands feel more familiar overseas. Many foreigners would recognise the familiar neon livery of a FamilyMart or Lawson, even though the much-hyped global march of the Japanese combini never really got started.
Overall, the forecast is for greater global acceptance of Japanese FMCG goods and a shift in how the world thinks about Japan. All good points to consider when choosing a marketing job with a Japanese company.
---
AP Global Talent is the specialist agency for advertising and marketing jobs in Japan. For the latest job updates, follow us on Twitter, Facebook, or LinkedIn.
Top image by Soon Koon/Flickr